Umkanyakude Safaris: Fair Chase Hunting for Plains Game in Zululand, South Africa
Hunting at its traditional best: hunt Zululand under the stewardship of owner Mark Sutherland, MD, PH. Signature species found here are world-class Nyala and Red Duiker, both with very limited distribution in Africa. Most other plains game species are available, eg Kudu, Zebra, Blue Wildebeest, Impala, Warthog etc. Reedbuck and Bushbuck, species not commonly found in most locations, are also present. Terrain includes thick riverine brush, and wooded ridges with open aloe and acacia woodland. Enjoy the special ambience of a tented camp overlooking the rolling hills of Zululand, a wonderful hunt area that supports a high concentration of indigenous plains game, as well as leopard and hyena. The property is surrounded on 3 sides by a Big Five preserve, so don't be surprised to hear lions calling in the evening.
Mark was born in Zululand, speaks Zulu fluently, and believes strongly that ethical hunting is the best way to ensure that these rare species will continue to flourish here as they have done for thousands of years. He holds degrees in wildlife management as well as medicine. He believes in fair chase hunting, reflected in his "hunt-on-foot only" rule, and strives to deliver a quality hunting experience first and foremost. In accordance with that goal, only two hunters are accommodated at any one time, although spouses and children are welcome. Hunting from, or in the vicinity of a vehicle, is prohibited. Spotting and hunting is done on foot, and clients are encouraged to lead the stalk, with the PH dropping behind to observe the shot. Mark very much encourages father-son hunts, believing that young hunters are the future of the sport and that fathers are the best teachers of hunting skills and ethics.
This property is located within a stone's throw of superb Tiger fishing (Pongola Dam) as well as exciting deep sea fishing in the Indian Ocean for game species such as Barracuda, King Fish, Wahoo, Dorado and Sailfish. Clients can enjoy a unique African "cast and blast" experience.
There are several activities and attractions nearby to keep the whole family happily occupied for the duration of the hunt. Day trips to Hluhluwe reserve, Cape Vidal, or Sodwana Bay can be arranged. For those wanting to hunt on a budget or value self-sufficiency, self-catered hunts are available at a substantial discount.


Record-quality Nyala are indigenous to this region (The world record was taken on the neighboring property).


Mark's clients take rougly 10 Rowland Ward Nyala per season at Umkanyakude.
Rates 2010 Season (May-October)
DAILY RATES:
Accommodation is provided in traditional canvas tents pitched on wooden decking in a natural bush camp. There are three tents, two with washbasin "en suite". A central "lapa" (thatched open air dining/cooking area) is attached to a viewing deck with fire pit. The deck overlooks a permanent water hole in the dry river bed. From this vantage point, hunters and their families can watch game coming and going during the day, and enjoy the vivid African sunsets, a cold beverage, and campfire conversation after a hearty meal. Ablution facilities include an enclosed wood-fired hot shower and flush toilet. Twin size beds with innerspring mattresses and mosquito netting ensure peaceful nights, interrupted only by the grunt of a leopard or the laugh of a hyena. Potable borehole water is provided. The kitchen is equipped with a gas-fired refrigerator, freezer and range, together with all cutlery, crockery, pots and pans. Guests that prefer to do their own catering can stock up on groceries en route from Richard's Bay or Durban airports. Alternatively, clients will be provided a self-serve continental breakfast, a coolerbox lunch, and a full cooked dinner for parties of 2 or more persons (Eg hunter plus observer, or two hunters). Laundry is done every other day.

A la Carte Rates

Basic a la Carte hunt (Self-catered), four day minimum, per person per day:

| | |
| --- | --- |
| Hunters | US$200 |
| Observers, not hunting | US$75 |
| Children under 12 years | US$45 |

Semi-catered a la Carte hunt, moderate alcohol included, two person/four day minimum, per person per day:

| | |
| --- | --- |
| Hunter 1x1 | US$375.00 |
| Hunter 2x1 | US$300 |
| Adults, not hunting | US$ 180.00 |
| Children under 12 years | US$ 120.00 |

days are 24 hour periods from pickup to dropoff, rounded to nearest half day

includes hunting permits, taxes, and trophy field prep.

excludes roundtrip airport transfers, $50 per person ex Richard's Bay, $100 ex Durban.

excludes trophy fees on animals wounded or taken, and taxidermy.

Hear the night sounds and feel the night breezes in the modern equivalent of the traditional tent camp.

Tents are bug-proof and cooler than lodge-style rooms, and enhance the bush experience. (Bring a flashlight for trips to the nearby shower and WC!)
TROPHY FEES:

Very nice 30" Nyala Bull. Current RW record (33")was taken on adjacent property.

Client with typical Impala ram. All hunting is done on foot. Vehicles are used for access and game recovery only. Bow and handgun hunters are welcome.
Fees include guides, skinning, field preparation of trophies and delivery to local taxidermist for dipping and crating, or mounting if desired. (Animals wounded will be charged in full.)

Cost of taxidermy and export of trophies will be carried by the client.

Fees per animal, US $, taxes included, 2008 season:

Species

Non-trophy

Trophy*

Blue Wildebeest

650

850

Bushbuck

500

725

Bushpig

175

225

Common Reedbuck

350

475

Impala

150

225

Kudu

650

890

Nyala

1250 <24"

1600 24-8";
1950 >28"
Grey Duiker
100
150

Red Duiker

650 <2"

790 2-3"
890 >3"

Steenbok

175 <2"

225

Warthog

150

175

Zebra

850

N/A

*Representative mature male per "Larger Mammals of Africa"

Additional species can be arranged, requiring a day or overnight excursion.

Two hunter maximum at any time

Venison may be utilized by the client, or ceded to the operator at the client's discretion.
PACKAGE HUNTS:
Packages are an economical all-in alternative to catered custom hunts. The hunter can make his trophy selections in the field where a choice is offered, and extra trophies can be added at the a la carte rate. Animals not taken by the end of the hunt or wounded are considered taken. Venison is ceded to the operator.
TWO HUNTERS CAST & BLAST $7250 each
Trophy Nyala/General Plains Game/Sport Fishing Package: Ten nights, nine full days, 2x1, semi-catered, tented hunting camp/fishing chalet. Hunt on foot for trophy Nyala plus your choice of additional species (up to $2500 value). Includes two consecutive days fishing for fresh water Tigers or deep water ocean gamefish. Observer/fisherperson $2000 supplement, includes 2 day trips to nearby attractions.
NOTE: Clients electing ocean fishing should, if at all possible, book a Monday departure. Weather may preclude ocean fishing.
Afternoon arrival, morning departure.
TWO HUNTERS "BULALA ZONKE" (Shoot Them All) PACKAGE: $5500 each Seven nights, six full days, semi-catered hunt 1x1
2 Trophy Nyala Bulls (no surcharge for 28"+) 2 Trophy Red Duiker (no surcharge for 3"+) OR Trophy Kudu 2 Trophy Bull Blue Wildebeest or any 2 Zebra, 4 Any Warthog or Bushpig 2 Any Impala Ram
separate accommodation
$1000 observer supplement, includes 2 day trips to nearby attractions
FATHER-SON* "DAKAZANE" (Big Warthog with Small Tusks) PACKAGE: $2500 each Seven nights, six full days semi-catered hunt 2x1
1 Non-trophy Nyala Bull
1 Non-trophy Blue Wildebeest, Zebra or Kudu
Any 2 Impala
Any 2 Warthog
*16 and under sharing accommodation
$1000 observer supplement, includes 2 day trips to nearby attractions
Included in packages (unless otherwise noted):
1. Services of PH(s), tracker, vehicle/boat as appropriate
2. Accommodation/meals/moderate beer/wine. Self serve breakfast, packed lunch & cooked dinner.
3. Laundry every other day
4. Field prep of trophies and delivery to local taxidermist for dip/pack or mounting
5. Transfers to/from Richard's Bay airport. (Add $100 per vehicle for transfers to/from Durban Int'l)
6. Transfers to/from fishing as appropriate

Not included:
1. Tips
2. Taxidermy, dip/pack, or freight on trophies
3. Personal expenses
4. Airfare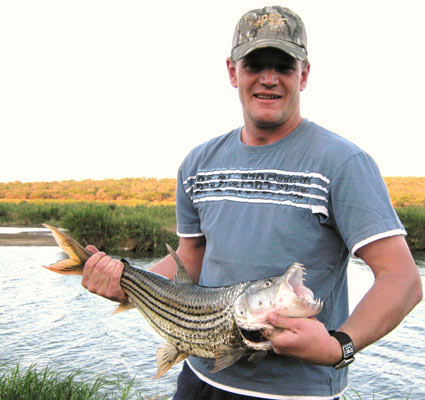 Tigers - the king of fresh water gamefish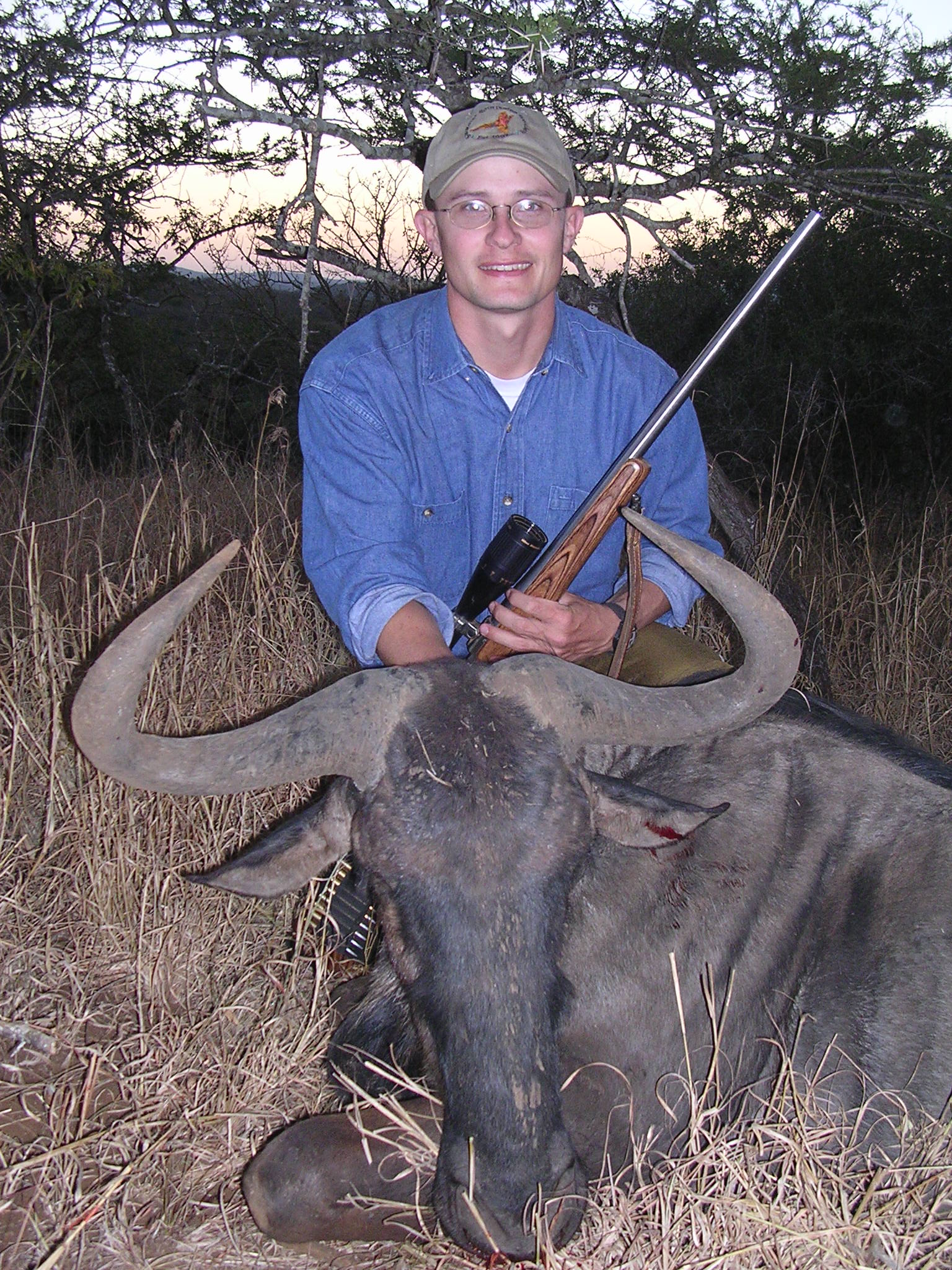 Blue Wildebeest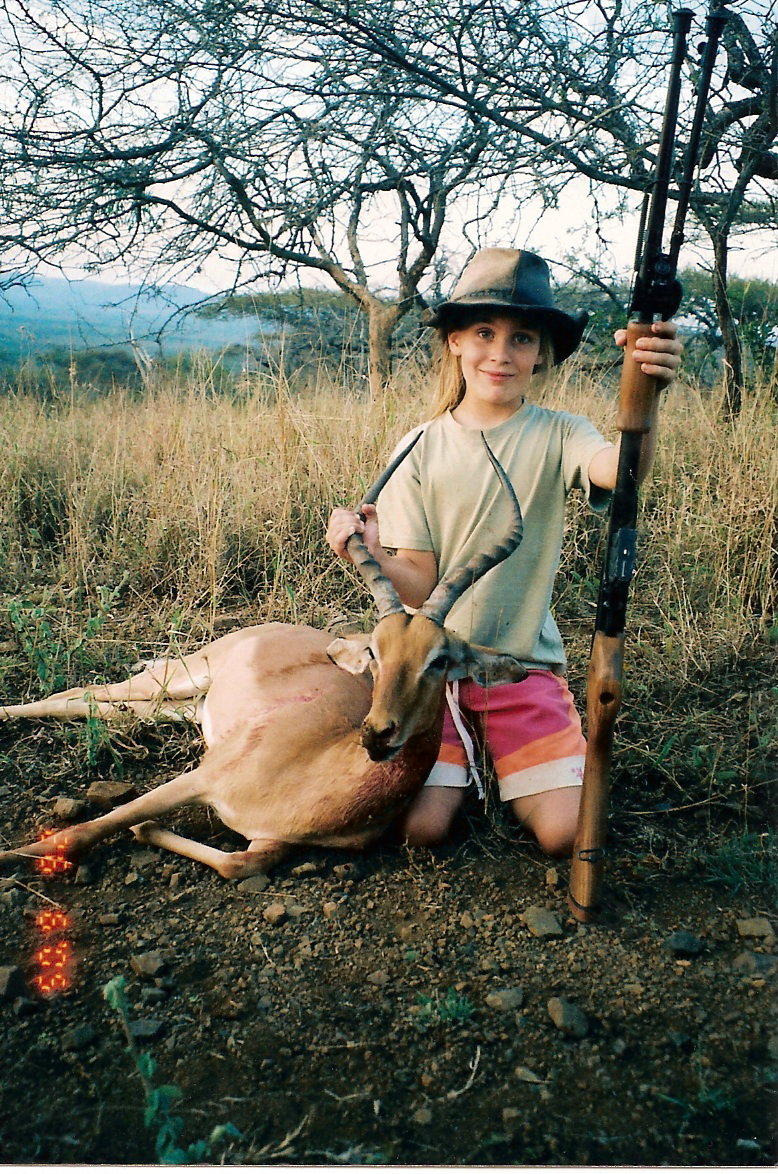 Little White Hunter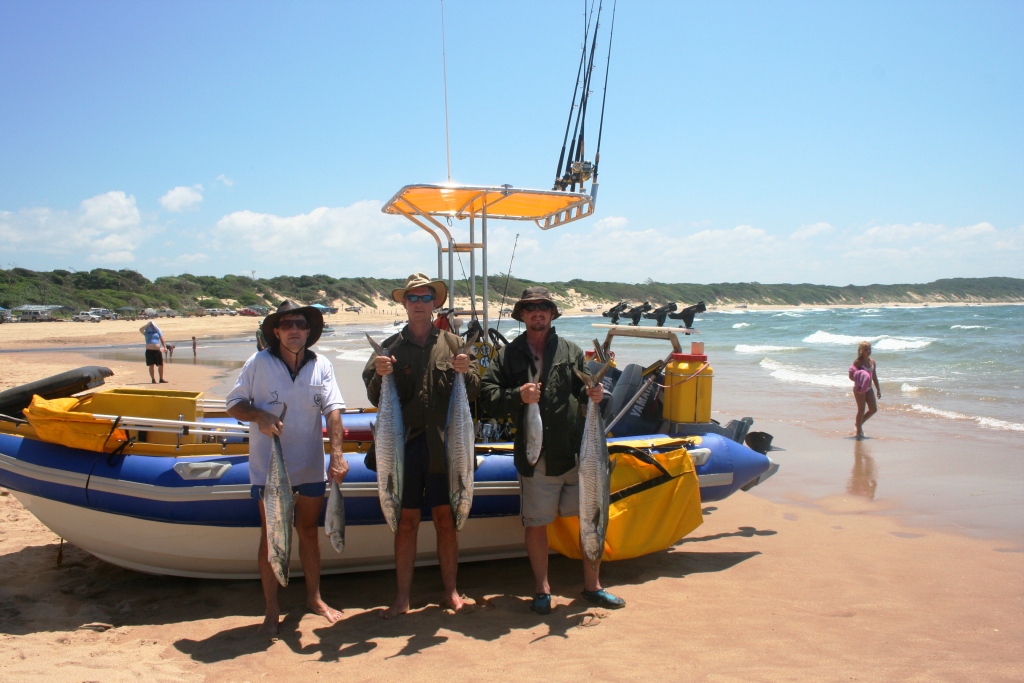 Mark (L) with clients after successful morning at sea.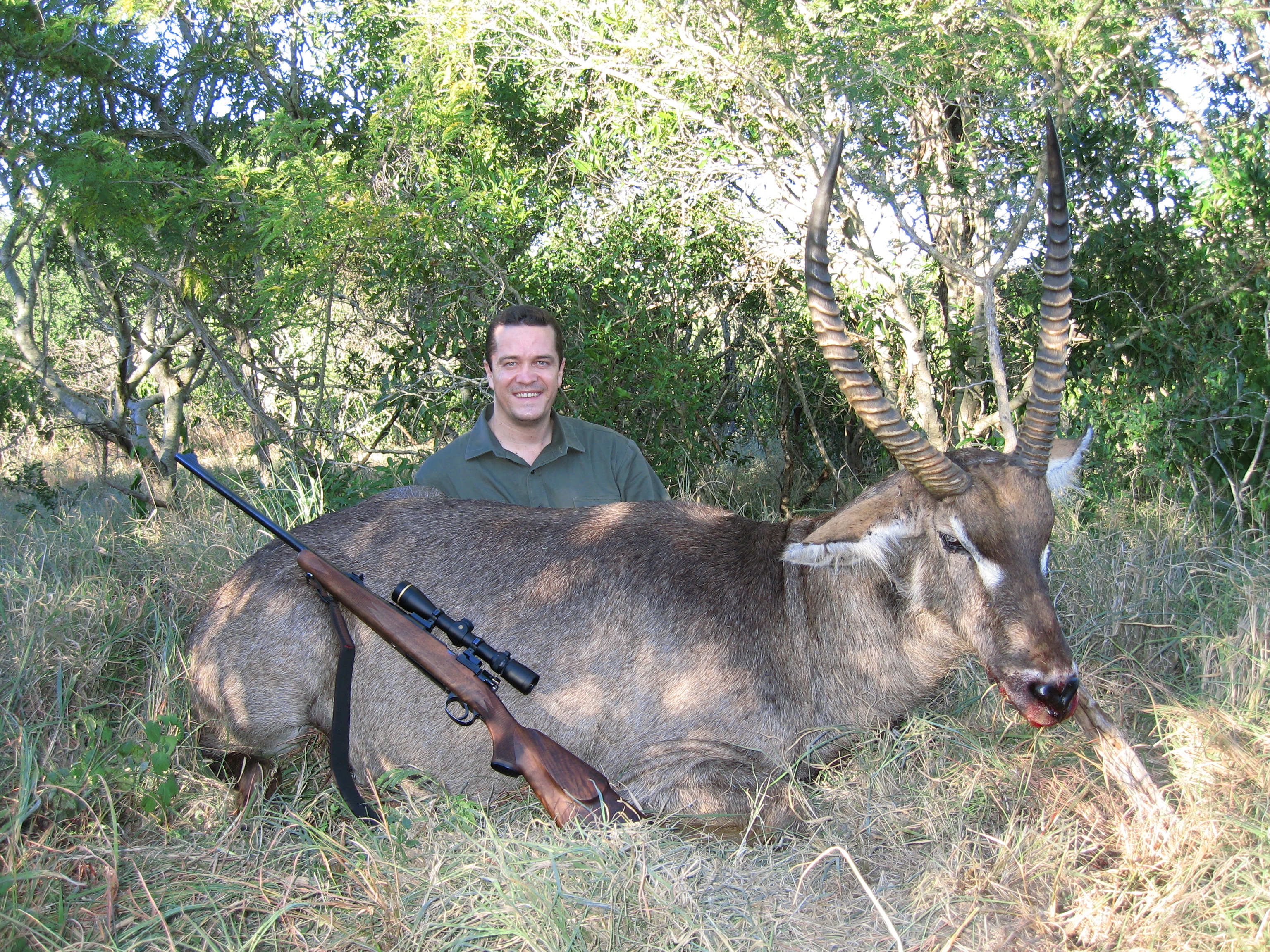 Nice Waterbuck taken in 2009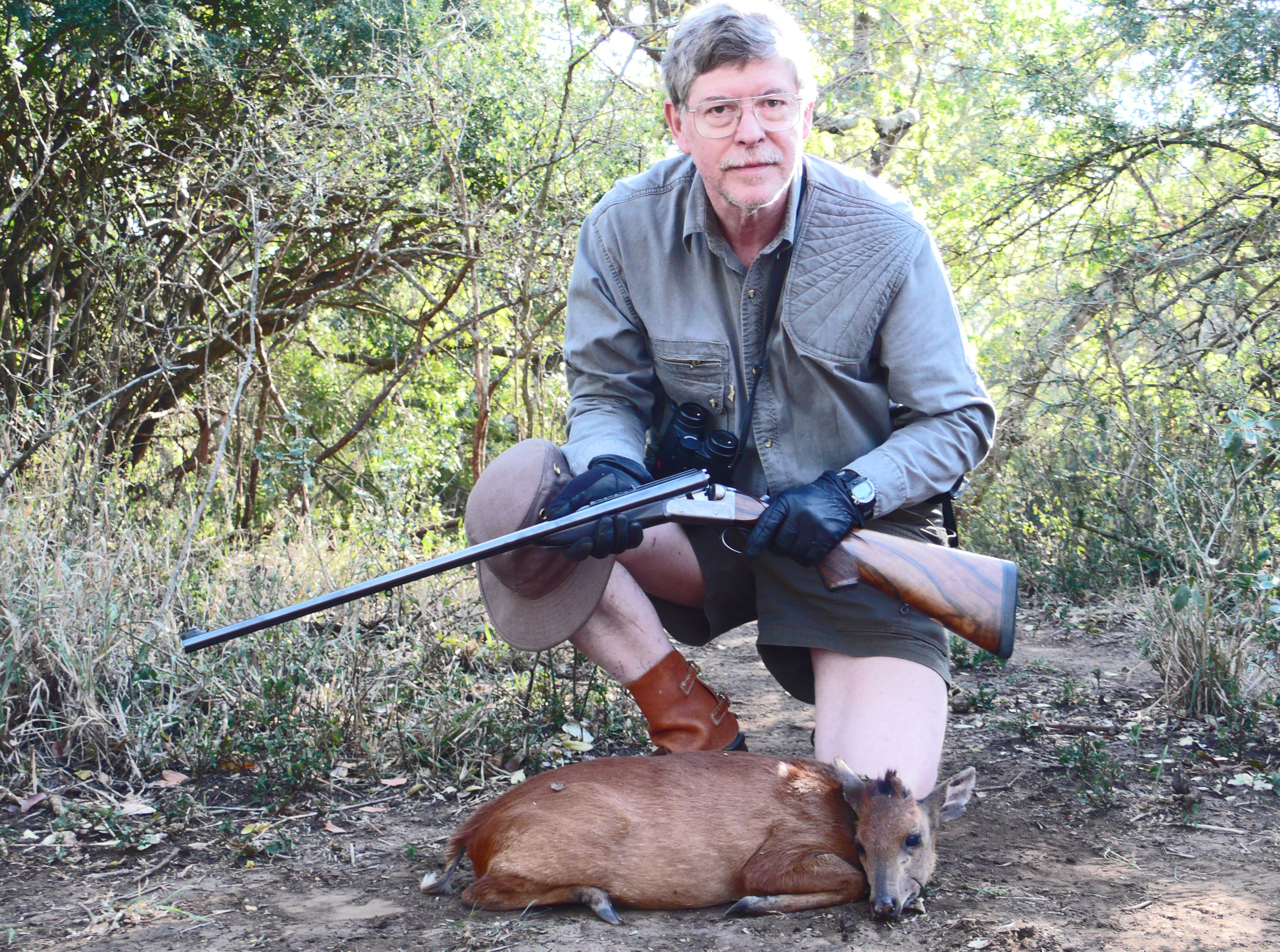 Red Duiker taken with an African Double!
FURTHER DETAILS/PAYMENT:
Email us for further details or to make a booking. A deposit covering the hunt daily fees, or half of the package value, is requested at time of booking. Cancellations made later than 6 months prior to the commencement are 50% refundable, but are not refundable later than 3 months prior.
Back to Safaris